Linked Brain Inc. (Representative Directors: Koichi Shimizu, Shingo Iwamoto. Address: Chiyoda-ku, Tokyo. Hereafter, "Linked Brain") has signed a business agreement with StarVR Corporation (hereafter, "StarVR") based in Taiwan to develop content for their newest "StarVR® One" head-mounted VR display, which boasts the best viewing angles in the industry.
In the consumer market, VR is mainly used for entertainment, such as games, but it is now starting to be used in professional settings as well, such as designing automobiles or buildings. Some forecast that business-use VR market in 2022 might be larger than the consumer-use market.
Linked Brain, with its strengths in content planning and creation, and StarVR, which manufactures and sells the StarVR® One with its advanced technology, will work together to promote the commercial use of VR for professionals in a range of industries, including automobiles, construction, manufacture and logistics.
■Outline of the business partnership with StarVR
1. Partnering on creating xR content, joint research and development for HMI content.
Joint planning and development of content for StarVR® One.
2. Development partner for enterprise business in Japan.
Developing content on the assumption of commercial VR use for a range of industries in Japan,
including automobiles, construction, manufacture and logistics.
3. Assisting StarVR with selling equipment.
■Features of the StarVR® One
With the industry's widest angle of view (210° horizontally, 130° vertically), covering 100% of the human field of vision, the StarVR® One allows a more natural sense of immersion.
It also includes eye-tracking technology to follow eyeball movements and dynamic foveated rendering to focus high-quality rendering on where the eyes are focusing.These allow areas of interest or concentration to be visualized and digitized.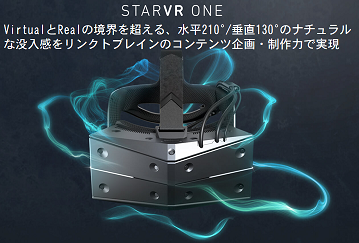 ■Linked Brain's enterprise business
At Linked Brain, we offer support for planning and development of digital content in enterprise fields as a way to provide solutions that make use of gaming technology.
Linked Brain's strength is our ability to provide solutions that utilize gaming technology, such as the utilization of game engines or AI development.
<Outline of services>
(1) Development of xR (AR, VR, MR)
We plan and create xR content such as simulations for hazardous work or assistance on production line work.
(2) HMI design
We design HMIs (Human-Machine Interfaces) that make infotainment possible.
(3) Visualization creation
We support manufacturing and construction through digital visualization using incredibly realistic images.
Professional VR for commercial use needs to achieve levels of reality and detail that are higher than for games. Linked Brain has a strong track record in the development of VR for enterprises, in addition to 3D modeling for games, and by providing business in conjunction with StarVR, with its StarVR® One using advanced tracking technology, we can work towards developing content with even higher technical standards.
■Inquiries
Linked Brain Inc.
info@linkedbrain.jp
■Company Overview
Company Name : Linked Brain Inc.
Representative : Representative Directors Koichi Shimizu and Shingo Iwamoto
Corporate Address : Kojimachi M Building, 4F, 3-12-12 Kojimachi, Chiyoda-ku, Tokyo
Capital : 44,000,000 yen
URL  : https://linkedbrain.jp
Main Businesses:
– Game operation/development consignment
– Gaming industry-specialized HR
– Game application inbound/outbound
– Enterprise xR