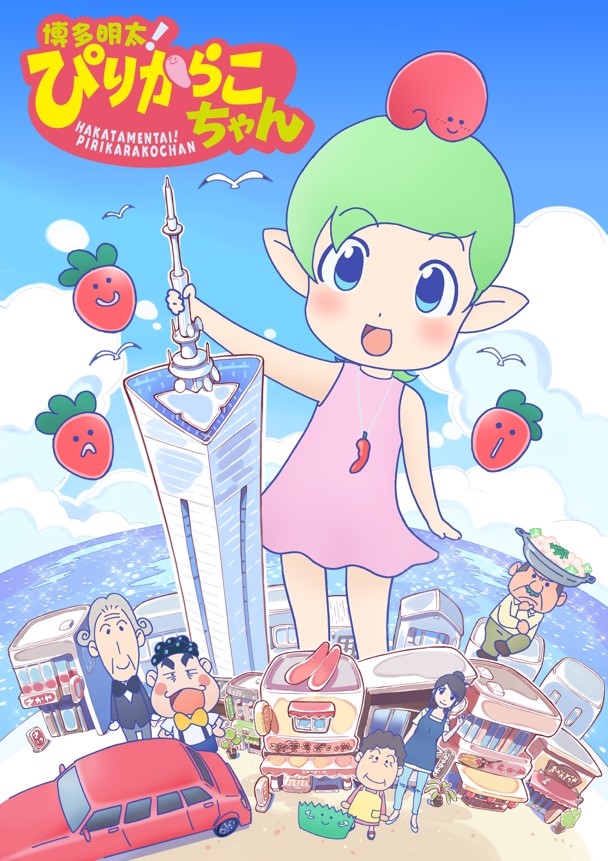 Linked Brain Inc. (Representative Directors: Koichi Shimizu, Shingo Iwamoto. Address: Chiyoda-ku, Tokyo. Hereafter, "Linked Brain") has joined the production committee for "Hakatamentai! Pirikarakochan," an animated film focusing closely on Hakata.
In addition to just the animation, Linked Brain will be involved in the production committee for the production of content that will showcase what a great place Fukuoka is.
"Hakata Mentai! Pirikarako-chan" a short-form animated series inspired by the town of Hakata and its famous products, is to be broadcast this summer by Kyushu Asahi Broadcasting.
The director is Taketomo Ishikawa, known for "Hana Kappa" and "Oshiri Kajiri Mushi," with a top-rated production crew and cast of famous voice actors.
A digest version will also be shown at the 11th Okinawa International Movie Festival. There will also be a panel discussion featuring the director, Taketomo Ishikawa, and the voice actress of Pirikarakochan, Hiyori Kono. We invite you all to attend.
<Story>
Get ready for a wild romp down a mysterious shopping street where the Hakata vibe is strong—but just a mirage—and aggressive tactics to work the appetite up to full rev are rampant. This zany film follows Pirikarakochan, a mentaiko (seasoned cod roe) fairy who flits around the area helping (or at least trying to help?) other food fairies with their problems and getting to the bottom of gossipy rumors.
<Cast>
Pirikarakochan: Hiyori Kono
Uncle Sosuke: Ken'ichi Ogata
Uncle Motsunabe: Chafurin
Baran-kun: Shun Horie
Amaou Trio: Hitomi Owada
Maya: Maaya Uchida
Caviar-kun: Natsumi Fujiwara
Shitsuji: Hironori Miyata
Grandma Koharu: Marie Oi
<Staff>
Story: G-angle Co., Ltd.
Director/Character Design/Prop Design: Taketomo Ishikawa
Series Structure/Scriptwriter: Shingo Irie
Backdrops/Settings: Manabu Keita
Art Director: Norifumi Nakamura (Studio Naya)
Color Design: Sakiko Teguramori (Triple A)
Director of Photography: Tomoya Hosaka (Asahi Production)
Editor: Yuki Honda (Asahi Production)
Sound Director: Shiori Yamazaki
Music: Tetsuya Kobayashi
Sound Producer: G-angle Co., Ltd.
Producer: G-angle Co., Ltd.
Official Hakatamentai! Pirikarakochan website:https://pirikarakochan.com/
Okinawa International Movie Festival Special Screenings Information page:https://oimf.jp/movie/category/5/
©︎Pirikarakochan Production Committee
■Company Overview
Company Name: Linked Brain Inc.
Representative: Representative Directors Koichi Shimizu and Shingo Iwamoto
Corporate Address: Kojimachi M Building, 4F, 3-12-12 Kojimachi, Chiyoda-ku, Tokyo
Capital: 44,000,000 yen
URL: https://linkedbrain.jp
Main Businesses:
– Game operation/development consignment
– Gaming industry-specialized HR
– Game application inbound/outbound
– Enterprise xR